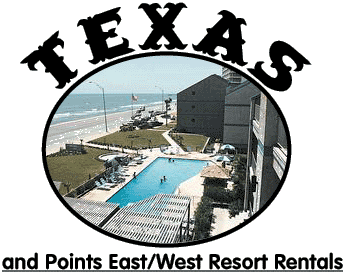 We are individuals who own a number of timeshares. We cannot always use them, so we make these available to you - and at reasonable prices! Most are 2BR/2BA. Full kitchens. All linens and towels supplied. Cable TV. Fully furnished. Resort amenities. Walk in the front door - relax, unpack, enjoy!!
IF YOU DO NOT SEE YOUR PREFERRED DESTINATION, PLEASE LET US KNOW - WE PROBABLY CAN GET IT FOR YOU!!!!

TEXAS SAMPLER $695/week or $105/night
Lake Conroe & Houston

Fish from your private patio, go golfing & boating, hike & bike in Piney Woods of East Texas, shopping at Old Town Spring, or visit Astroworld and Space Center Houston.
Flint & Tyler

Roses, antiquing, jet skis, bass boats, paddle boats, biking, horseback riding, tennis & swimming, and lots of activities for the youngsters, await you.
Lake Travis & Austin

Go sailing, powerboating, fishing, waterskiing, windsurfing, snorkeling & swimming. Shuffleboard, bicycling, golf; or visit Austin and the LBJ Presidential Library, lively 6th street, museums and art galleries.
Galveston

Visit the Strand Historical District, Moody Gardens, the Railroad Museum, beautiful 19th century historic homes, Galveston Island State Park, Stewart Beach Municipal Park, Gulf of Mexico beaches. Tennis, swim in the pools. Explore boutiques, enjoy the restaurants and nightlife.
Corpus Christi/Port Aransas

Golf, tennis, deep-sea fishing, windsurfing, sailing, surfing - name your sport! Explore the Padre Island National Seashore, seaside towns. Visit Corpus Christi -Texas State Aquarium, the Lexington, Art Museum of South Texas, Corpus Christi Museum and the Japanese Art Museum. The Corpus Christi Raceway, Bayfront Plaza, Aransas Wildlife Refuge, the Greyhound Race Track are nearby.
South Padre Island

Deep sea fishing, beach fun, dolphin watching, waterparks, horseback riding, swimming, golf, seafood restaurants. Visit Port Isabel lighthouse, excursions to nearby towns and even Mexico!!
ALSO!!! San Antonio/Canyon Lake/New Braunfels, Lake Sam Rayburn, Runaway Bay & Dallas/Ft. Worth, New Ulm/Round Top
HEADING EAST?
We also own timeshares in places such as Hot Springs, AR; the Poconos, PA; Cape Cod, MA; Orlando, FL; and the Blue Ridge Mountains of North Carolina and Virginia. Reasonable prices. Where do YOU want to go???
POINTS WEST
Would you like to travel to Colorado, Arizona, Southern California, or the Pacific Northwest? Mexico? Hawaii? These are affordable vacation destinations when you stay with us. Let us know your preferred destinations!! We can help.
The Timeshare Dump
We are individuals who own a number of timeshares. We know that some people purchase a timeshare and later decide that the timeshare no longer fits their situation or their lifestyle.

Perhaps we can help. You may have decided that you are tired of paying maintenance fees; that you simply want to get rid of your timeshare; that you don't want your credit ruined by a default.

If your timeshare is in a location that we are seeking and fits our needs, we will take over your obligations and pay the maintenance fees. At no cost to you, we will draw up the deed transferring ownership and have the deed recorded, and notify the resort of the transfer of ownership. You will only pay for transfer fees (if any) that your resort collects when there is a change of ownership.

Other than taking over maintenance fee obligations, we WILL NOT pay you any other amounts for your ownership interest.

Tell us about your timeshare. Resort and location; number of bedrooms; season & week you own; if you are still making payments on your purchase; deeded or not; whether your week is still available for this year or next year; your resort's "bonus time" policy; any other information that it would be helpful to know.